Gwen Spicer is a Textile, Upholstery, Paper, and Objects Conservator, and full-time principal of Spicer Art Conservation, LLC, conveniently located in upstate New York. She received her Master's degree from the Art Conservation Program at Buffalo State College, State University of New York. She has over twenty-five years of experience, is a Fellow of AIC, and has been in private practice since 1995. She has assisted many museums, institutions and private collectors with the treatment of artifacts and antiquities for both display and storage. She works closely with each client to focus on problem solving while constantly aiming to find solutions that work within the framework and constraints of each individual situation. Gwen personally oversees every project at Spicer Art Conservation.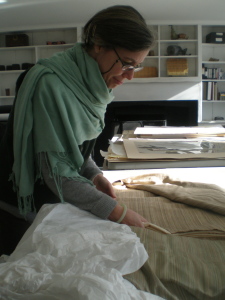 She is a trusted expert in the care and treatment of historic and antique flags. She has been sought for her specialization in the conservation of historically significant flags and banners, including the multi-year battle flag projects for the collections of the states of Maine, New Hampshire and New York. Relevant projects include conservation of a pre-Revolutionary War "Liberty" flag, as well as the "Forster Flag"; Civil War flags from the collection of the National Park Service Wilson's Creek National Battlefield and WWII flags from the General George Patton Museum of Leadership. She has also conserved several battle honor flags from the Civil War, including a Maryland USCT flag, as well as regimental flags and guidons from across the United States. Gwen conserves unusually large flags, most notably the  garrison sized Old Fort Niagara flag and the 20′ x 40′ New York Knicks 1970 World Champion banner.  Ms. Spicer has performed in-depth surveys to guide the future preservation of several collections, including the entire Maine State Flags Collection. Gwen was involved in New York State Capitol's large collection of flags by assisting in the initial survey and proposal for future preservation of these artifacts. Recently, she compiled a summary of several state's projects and their cost effectiveness. The information was presented at a "Civil War Symposium" for the New Hampshire National Guard.
Ms. Spicer has treated flags from every American conflict from the Revolutionary War to the present.
She has spoken internationally at the conference, "Forgotten History — Upholstery Conservation", Birgitta Forum in Vadstena, Sweden. The talk, "Extraordinary Finds: The Conservation & Investigation of An Italian Dantesca Chair," discussed a chair that was conserved as part of the furnishing plan at The Hyde Collection. This talk later became a chapter in a book covering the proceedings from the Swedish conference. Ms. Spicer also had the honor of speaking to the Council of Cultural Affairs in Tainan, Taiwan where she gave a talk titled "Current Practices: Textile Conservation in the United States."
Collection care and preventative conservation are important tools that all custodians of collections should know. The safe storage of artifacts has been a special concentration for Gwen. She wrote the first draft of the Textile Catalog chapter which discussed "Storage Furniture & Materials." She has been an Adjunct Professor at the Fashion Institute of Technology in NYC, where she has taught the course "Textile and Costume Storage." She co-taught a "Round Table & Workshop: "Storage Methodology for Archaeological & Ethnographic Textiles" for the NATCC conference in Mexico City, Mexico. Ms. Spicer speaks throughout the year to cultural institutions and organizations about proper collection care, handling, environment and storage.
While in private practice, she assists many small museums and historical society's across New York State and beyond with collection care, exhibitions, and conservation treatments. This includes designing storage spaces for small institutions and house museums based on inventories. Such sites are the Chautauqua Institution, Locust Grove, Landmark Society of Western New York, Shaker Museum and Library and the World Awareness Children's Museum. In the procedure, square footage is determined and the space needs and supplies are calculated. The use of inventories allow small collections with limited budgets to make realistic goals for collection improvements. She has also assisted historic house museums with developing collection rotation polices for display. Gwen designed a monitoring program of light levels in a newly constructed exhibition space at the New York State Museum.
She was formerly on the board of the service organization, Upstate History Alliance, which aided small institutions throughout upstate New York with collection care and storage, and the board of the Vermont Museum & Gallery Alliance. She has organized a housekeeping workshop that was held at three venues across the state as well as an emergency preparedness workshop and exhibitions for small museums. In addition, she is involved with Integrated Pest Management Working-Group (IPM-WG). The group's web site is www.museumpests.net. She has also served on the board of Conservators in Private Practice of AIC.
Large and diverse projects occasionally require collaboration among conservators of different specialties. Spicer Art Conservation collaborates closely with several trusted conservators to create a specialty team suited for any project, bringing a level of expertise of materials that is not easily found.
Gwen is also member of the innovative group, Take5, composed of five seasoned professionals who serve as consultants for various non-profits. They produce Take5, a monthly newsletter filled with innovative and creative ideas for any non-profit professional.  Subscribe here