An upholstery conservation treatment of this Hunzinger chair was prepared for an exhibition The Fabrics of the Home that opened April 2009 through August 2009. The goal of the treatment is to return the current square seat to its original profile with a deep tufted seat. The methods used to create the deep tufting in the seat was presented at the North American Textile Conservation Conference, Quebec City, Canada in September 2009. In order not to disturb the original lashing ties and springs, Rare Earth magnets were used in replacement of the buttons. (more can be read about the use of magnets in conservation here).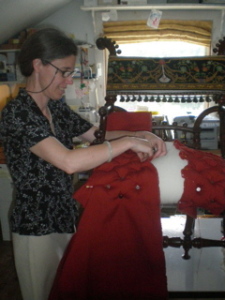 The Hunzinger Chair before treatment, with the show cover and seat cake removed, and during treatment.  
A matching Hunzinger Chair owned by the Brooklyn Museum of Art on the left.