The Bronck Museum recently acquired this early 18th century chair from a descendent of the 1663 stone house. The chair was covered with red silk and cotton fabric. A companion chair is owned by the Albany Institute & History of Art and still retains its original leather upholstery.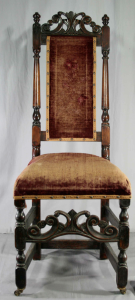 Protected on the reverse side of the red velvet are small pieces of the embroidery threads used to decorate the chair's back. The design had been worked with chenille threads.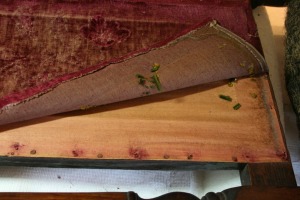 Nicely attached to the underside of the chair's seat was this leather fragment (top image). The leather had originally been attached to the lower section of the inside back (middle image). The holes in the leather perfectly matched the holes in the wood frame that were revealed once the red velvet upholstery layers were removed. Leather was a common upholstery show cover for this time period. The chair back also has an interesting slot located just below the crest rail to accommodate the leather/show cover.