Archival Framing
Embroideries & Samplers
Mounting & Hanging Systems
Archival Framing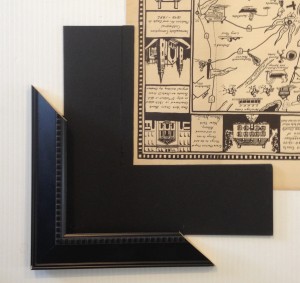 Archival framing is the best means to protect your artifact or family heirloom. It is achieved by using inherently acid-free materials, and then sealing the frame to prevent any dirt or dust from entering (see images below; on the left the original frame backing materials, on the right, a sealed frame with archival materials).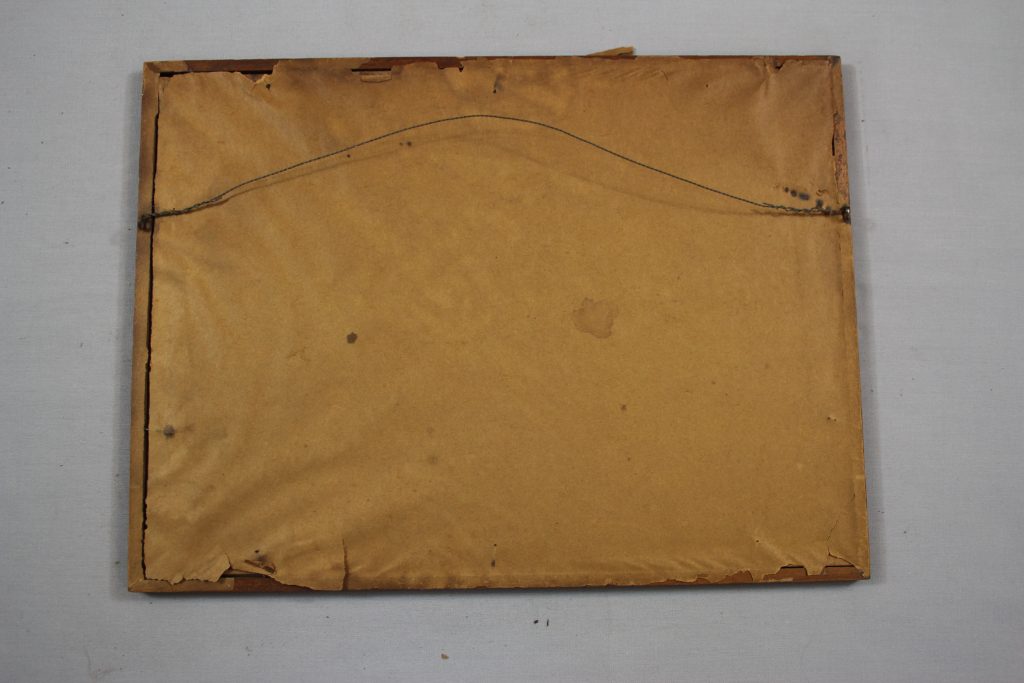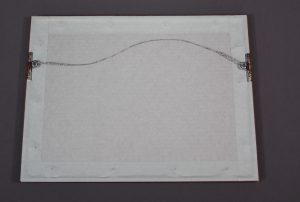 Archival framing can be done with the existing frame, or a new one is chosen from the selection at the studio of Spicer Art Conservation, LLC. Each mount is custom made and is always adapted to best fit the needs for the artifact and owner.
The use of archival materials is critical for the long-term preservation of the artifact.
Embroideries and Samplers
All attempts are made to save original materials and reincorporate them in the final framing package. Frequently samplers and embroideries retain their original mounting materials. Stabilizing treatments are custom designed around keeping as much of these materials and attachments.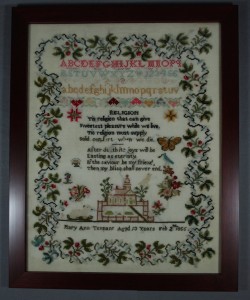 Mounting & Hanging Systems
1. Magnetic Mounting – Large and sturdy textiles, like quilts, coverlets, tapestries, carpets and rugs can be displayed with the use of a rare earth magnetic system. Rare earth magnets are very strong and able to safely and securely hold even the heaviest textiles. Magnetic systems are a major improvement on the old Velcro system. There are several options for magnetic mounting, the "Magnetic Slat" is featured below.  Read more about this particular magnetic mount in our blog post: Mounting Quilts with Magnets for Display or Exhibit.
We at Spicer Art Conservation are experts in magnet use in conservation mounting and treatments. Read more about how we use magnets on our Magnets page. 
2. Small & Thin-profile Mounts – Custom mounts are made for small-framed textiles, like needlework and embroideries. Maximum effort is used to retain all original materials, such as glass and wooden backing boards, within the framing. Isolating layers are incorporated to insure that archival materials only surround the artifacts.
3. Solid Supports for Large Artifacts – For very large textiles like Flags and Quilts, a lightweight and non-torque material is necessary. Such a mount is constructed from aluminum honeycomb. The materials used in its construction do not release harmful pollutants and are buffered against acid migration. The surface of the mount is prepared with needle-punched batting and display fabric. The mount can be covered with ultra-violet light filtered Plexiglas secured with a powdered-coated metal frame in order to give the best overall protection.