Spicer Art Conservation, LLC was been contracted by the Smithsonian National Air & Space Museum to construct 33 mannequins to support the uniforms of pilots and flight attendants from a variety of airlines for their upcoming exhibition America By Air, opening in the Fall of 2007 in the Hall of Air Transportation. We worked with SmallCorp who fabricated the armatures for the mannequins. 
More about the mannequins can be found at NASM's website.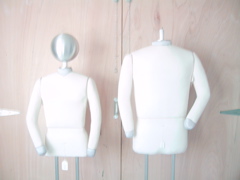 For more information about our custom mannequin design, please choose "mannequins" from the pull-down menu under collection care, or click here.