Magnetic Mounting Systems for
Museums & Cultural Institutions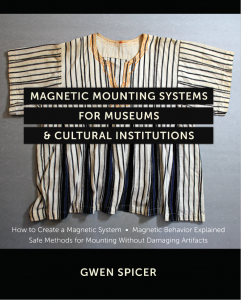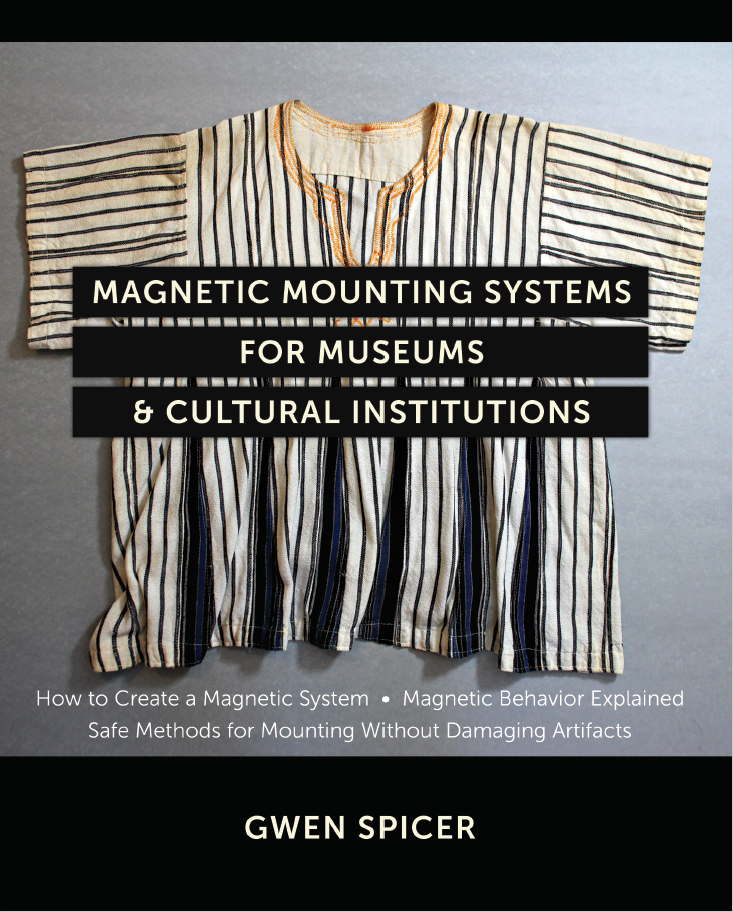 By Gwen Spicer
Magnetic Mounting Systems for Museums & Cultural Institutions serves a critical need in conservation and museum studies by addressing how to properly use magnetic mounting systems for all types of art works. It discusses in depth how to use magnets as well as consolidates existing information on magnetic properties and how magnets have previously been used by practitioners.
This book systematically explains magnetic behaviors and the procedures required to develop a magnetic system. With real case studies and over 70 photograph images and drawings, the book explores a broad range of artifact types and magnetic systems that can be employed and manipulated for uses in exhibition and storage. The case studies alone make this book is an essential reference text for any reader planning or executing displays. This book is also a must-have for anyone who display collections in museums of all sizes, galleries, archives, libraries or private collections. In particular, Magnetic Mounting Systems for Museums & Cultural Institutions is an essential text for mount-makers, exhibit designers, museums professionals, curators, conservators, collections managers, archivists, and architects. Mount-makers and installation teams within museums and the commercial exhibition industry will find the conservation and technical material in this book especially helpful. Conservation students and technical staff who wish to insure the safety of objects they install or mount can do so by learning from this book how to properly use magnets.
About the Author
Gwen Spicer is an art conservator who is dedicated to the conservation and care of cultural heritage. As the owner of Spicer Art Conservation, LLC since 1995, she has treated artifacts from museums, historic homes, galleries, and private owners. She earned her MA in Art Conservation from Buffalo State College, and has since taught and lectured around the world about collection care and magnetic mounting systems and has become known for her innovative conservation treatments. Recently, she oversaw the inaugural textile displays at the National Museum of African American History and Culture. Spicer is a Fellow at both the American Institute for Conservation of Historic & Artistic Works (AIC) and the Flag Research Center.
Additional information
Softcover
Over 300 pages
59 case studies each with cross-sections and images
16 chapters with extended glossary, appendixes and reference list
44 tables
Chapters contain 'how tos', 'Useful tips' and 'Wacky behavior'
Available December 2018
Cost: $88.50, Pre-order Discount ($98.00 after publication)
Shipping  USA: $6.00, Canada: $15.00, International: $35.00
Pre-orders open now:
Payments securely processed by Stripe.
Orders can be cancelled before shipment for full refund.