In October 8, 1841, Portland's "Maine Charitable Mechanics Association" held what proved to be the most lavish parade in its history. Prominent that day were 17 painted linen banners that each represent a different guild of skilled craftsman. The majority of the banners were painted by a member of the Association, William Capen, Jr.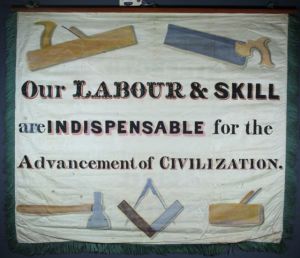 These banners are now housed at the Maine Historical Society, Portland, Maine. More can be learned by going to Maine Memory. The project was to establish a system to both store and display these unusual two-sided banners.
The banners are in remarkable condition for their 170 year age. In raking light the extent of creases and folds can be easily seen from years of being rolled in storage.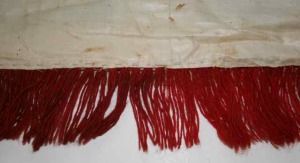 Cleaning of this banner started on the right side in the images above. See the soot that has been removed over the word "LIVE" of the Ship Builder's Banner.
The treated and mounted banners were all stored in their customized storage rack.