Work with Rare Earth Magnets
Magnets are an old technology, known and used by the Greeks and ancient Chinese for navigation.  However, in the field of Art Conservation they have been used sparingly until recently.  Magnets have unlimited potential for the profession.  Using magnets as a reversible fastener may have been slow to enter the field, but here at Spicer Art Conservation we have embraced them fully.
Spicer Art Conservation, LLC has been experimenting with the best means of using magnets to mount, store, and treat artifacts. Read our blog Inside the Conservator's Studio for recent findings.  If you are looking for information about mounting textiles of other artifacts with magnets, visit our page about display and mounting.
You can view the presentation I did for the 2016 Mountmakers Forum in Cleveland, by following the this video link: "Stick to it Magnetic Mount-niers!".  (The video is at the far left, second row).
You can also read some of my published articles on the topic:
"Defying Gravity with Magnetism" AICNews (Nov. 2010) vol. 35, 6:1,3-5.
"The Re-Tufting of a Hunzinger Arm-Chair" NATCC, Quebec City, Canada, Fall 2009
"An Alternative to Velcro? Upper Edge Hanging Methods Using Rare Earth Magnets" , WAAC Newsletter, vol. 35, 3: 20-25.
"Magnets as an Alternative to Velcro", poster presented at AIC's 43rd Annual Meeting in Miami, FL, May 2015
"Storage and Display of Historic Double-sided Banners", poster presented at NATCC's Meeting in New York, NY, November 2015
"The How and Why for Reusing Rare Earth Magnets", Book and Paper Annual (AIC), vol. 34, 2015.
"Ferrous Attractions: The Science Behind the Conservation Use of Rare-Earth Magnets" Journal of the American Institute for Conservation, vol. 55, no. 2, 96-116, 2016.
"Survey of Magnet Use in Conservation" E-Conservation (pending). This article will be made available once it has been published. In the meantime, you can contact Gwen directly at gwen@spicerart.com to discuss the findings of the survey.
"Ferrous Attractions: The science behind the magic" hands-on session, Textile Specialty Group, AIC (pending). This article will be made available once it has been published. In the meantime, you can contact Gwen directly at gwen@spicerart.com to discuss the findings of the hands-on session.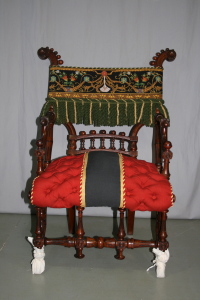 USING MAGNETS IN CONSERVATION.  If you are using magnets in your conservation work, I would be very interested in hearing more about your technique.  I am always interested in the way that other conservators have used magnets.  And if you haven't guessed; I love to talk about magnets so please contact me with your magnet questions!
Do you have a system or treatment you would like to share?  As a 2016 recipient of an AIC Kress publication fellowship, I am working on a book titled, "Using Magnets in Conservation".  The book will include example case studies used by conservators across all disciplines.
Here is your chance to be part of the book!  Submit your system or treatment by filing out the Magnet System Information Sheet.  Email it to me at gwen@spicerart, along with any additional information you think is beneficial, including photos, charts, descriptions, etc.
CHARTS and ARTICLES about using Magnets:
Many of the above papers feature charts or illustrations. Below is a quick link to some of our most referenced charts.  Also a link to some of our most cited references, including books, articles and online sources.
Types of Magnets and their properties
Properties of Neodymium rare earth magnets
Types of steel and their gauges. An inverse relationship, this chart shows how strength increases as gauge number decreases.
Conservation projects that used rare earth magnets
Developing a Universal Language to Describe Magnetic Mounting Systems. This "Spicer" method is useful for any conservator using magnets. It will help to fully and concisely describe each component of the system.
REFERENCES:
Books or articles about sustainability and the environmental impact of using Rare Earth Magnets
Books or articles about the use of Rare Earth Magnets in Art Conservation