The Chautauqua Literary and Scientific Circle (CLSC), founded in 1882, has produced a banner every year to celebrate the culmination of each years graduating class. This unique and diverse collection represents artistic and fiber arts technology over the course of a century and a quarter. The inclusion of mottoes also reflects the thinking of the time. This collection continues to expand. The banners are hung on the walls of Alumni Hall and are carried in the annual Recognition Day Parade.
Spicer Art Conservation, LLC began assisting the Banner Committee in 2000 with a survey of the banners' condition. The environment of Alumni Hall was monitored as part of the development of long-term recommendations for the proper care of the collection. The focus of the project quickly moved from individual treatment to proper storage and preventive care for the collection. Policies and procedures needed to be developed that addressed the use of the collection.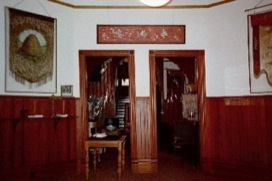 Gwen Spicer, over several years, gave talks and conducted workshops to train the committee members on the care and storage techniques that were specially developed for the collection. This enabled the Banner Committee to divide the banners into groups that included inactive, soon-to-be inactive, and active banners. The active banners remain hanging on the walls of Alumni Hall and are carried in the parade.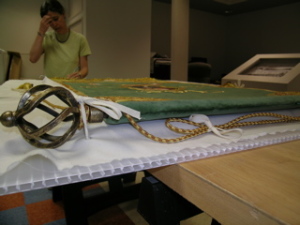 The Chautauqua Institution expanded their Oliver Archives Center to include a room for the storage of the banner collection. The storage was designed for the inactive and soon-to-be inactive banners.  The facility was designed for each banner to have its own shelf (using InterMetro Industries shelving) and supported on a sturdy handling tray. Each shelf unit was given a dust cover and placed on caster wheels (see photos below). The next phase of the project will be to design a display system for the collection.  To read more about this type of storage and others to compare, read our blog post at Inside the Conservator's Studio.