Spicer Art Conservation, LL examined the textile window curtains used in the Harry S. Truman home in Independence Missouri. Each curtain in the house was fully surveyed, conditioned, storage solutions proposed, prioritized and possible reproduction fabrics identified. The work was performed both in the house during opening hours and in collection storage. 
Here is a view of Harry and Bess Truman's home today and with Mr. Truman in front. Possibly our last Citizen President. Harry and Bess on their wedding day. The couple lived in the home with Bess's mother and extended family. It was not till after they moved back from the White House did they lived in the house alone.
The survey of the curtain collections occurred in both the house and in storage. During the full week we had the best helpers from the site. Each of the curtains were photographed overall. Those in good condition could hang. However, the ones in poor condition were all documented flat on large worktables.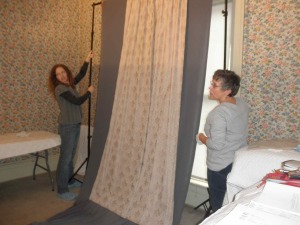 Suitable replacement fabrics were found for each of the room's curtains.